Lent is a season of fasting, prayer and almsgiving in preparation for Easter. Please see below for a list of resources that will help guide you through the season of Lent and help you stay on track with daily prayer and reflections.
---
LENT WITH BISHOP BARRON
Spend time with Christ in the Gospel this Lent alongside Bishop Barron and the Word on Fire community. Would you like to receive daily Gospel reflections in your inbox every morning? SIGN UP HERE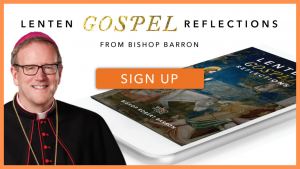 ---
FORMED
FORMED On Demand is a subscription service offering access to thousands of studies, films, audios, and ebooks. We have purchased this resource for our Parish! FORMED has several Lenten resources for you – daily reflections, study programs, and devotionals. To register for this resource, click HERE.
---
BEST LENT EVER
What Is BEST LENT EVER? It's a free email program that will guide you on an incredible journey toward the-best-version-of-yourself. From Ash Wednesday to Easter, you'll discover ways to transform your life in forty days.
---
REDEEMED ONLINE
Join #ShareJesus and get a daily video to help you grow in your faith and share it this Lent. For Lent, the initial focus of their series is on the why and what of some of the things we do as Catholics, then transitions into the Stations of the Cross, and closes with reflections on the seven last words of Christ. Sign up today at http://lentseries.com