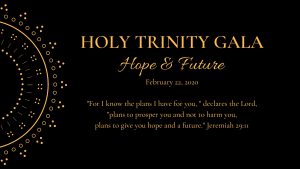 Holy Trinity's Gala will be held on Saturday, February 22nd, 2020 5:30pm – 10:00pm at Pacific Hills Banquet, Laguna Hills. Suggested dress is cocktail attire. All parishioners are invited to attend.
SOLD OUT! Thank you to everyone who purchased tickets!
Thank you for your continuous participation in the Holy Trinity Gala. This event is Holy Trinity's most important fundraiser of the year! Thanks to our dedicated parishioners it is always a night to remember complete with excellent food, fellowship, dancing, silent and live auction.
This year our focus is on God's prosperous plans for an abundant and hopeful future here at Holy Trinity now and forever. By supporting the Gala you support our youth and adult ministries, parish events, and outreach programs as we further the mission of the church as Christ intended.
If you have any questions please email: lrollolazo@holytrinityladera.org or call the office (949) 218-3131.
There are several ways to support the Gala!
Volunteer your time and talent! We need your stewardship! Now is the time to get involved! We are in need of leaders and volunteers in the following areas: Auction Committee, Promotion & Sales Committee, as well as Event Logistics Committee. Everyone is welcome to volunteer and participate! For volunteer opportunities please email: lrollolazo@holytrinityladera.org
THANK YOU, DONORS!
Thanks to many generous Holy Trinity families and sponsors the Gala is fully underwritten and paid for. That means every dollar counts. Every ticket, every auction item, every bid, and every donation now has a direct and powerful impact making Holy Trinity ministries, services and financial responsibilities possible. No matter how you contribute to the Gala, your involvement is a vital gift to our parish.
Alex & Ellen Vinck
Chuck & Annette Walker
Brett & Patricia Brown
Dr. & Mrs. John E. Taylor
Nick & Isabel Montes
Kent & Karen Hayden
Rick & Michelle Ptak
Tommy & Robyn Jankovich
Luke & Jessica Hudson
Matt & Carol Lawson
Dan & Tanya Domier
Brent & Renee Snyder
Winspire
Santa Margarita Catholic High School
Mike & Colleen Shepard
Michael and Shannon O'Connor
Thank you for your considerate hearts to serve our parish. I look forward to hearing from you!
In Christ,
Lyssa Rollolazo
Holy Trinity Catholic Church
Parish Fundraising
Phone: (949) 218-3131
Email: lrollolazo@holytrinityladera.org