ASH WEDNESDAY
Celebrate Mass with us on Wednesday, February 25th and receive your ashes as we begin the season of Lent.
---
PRAYER PATH EXPERIENCE
All are welcome to experience our Lenten Prayer Path in the Parish Hall on Thursday, March 7th. Open from 9:00am to 5:00pm, this is a self-guided prayer station experience that will give you a quiet, solemn place to pray and reflect on your Lenten journey. Stop by at anytime, for as long as you like, between 9:00am & 5:00pm.
---
STATIONS OF THE CROSS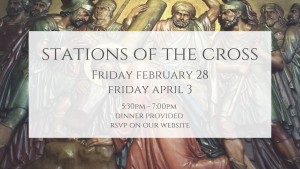 The Stations of the Cross are a 14-step Catholic devotion that commemorates Jesus Christ's last day on earth as a man. The 14 devotions, or stations, focus on specific events of His last day, beginning with His condemnation. The stations can be a mini pilgrimage as the individual moves from station to station. At each station, the individual recalls and meditates on a specific event from Christ's last day. Specific prayers are recited, then the individual moves to the next station until all 14 are complete.
Bring your family and friends for a guided walk through the stations outside of the church on Friday, February 28th and Friday, April 3rd.
Seniors will begin the guided walk at 5:00pm joining the simple meal at 5:30pm.
Young families with children begin the guided walk at 6:00pm.
High school & young adults begin the walk following as we wait for the group ahead.
Adults begin the guided walk soon following as we wait for the group ahead.
The simple meal will be available from 5:30pm to 7:00pm. If it is desired to walk the Stations as an individual, you are welcome after the guided walk of the groups.
To better prepare for the meal, please REGISTER HERE.  However, please do not hesitate to join us if unable to register. God always provides!
---
LENT SERIES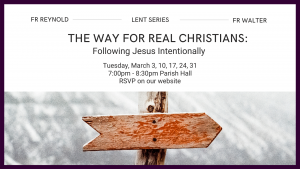 All are welcome to join us for our Lenten Series hosted by Fr Reynold & Fr Walter. There is no cost to attend but please REGISTER HERE so we can provide enough refreshments!
Jesus' Public Ministry, First Converts
35 Again the next day John was standing ]with two of his disciples, 36 and he looked at Jesus as He walked, and *said, "Behold, the Lamb of God!" 37 The two disciples heard him speak, and they followed Jesus. 38 And Jesus turned and saw them following, and *said to them, "What do you seek?" They said to Him, "Rabbi (which translated means Teacher), where are You staying?" 39 He *said to them, "Come, and you will see." So they came and saw where He was staying; and they stayed with Him that day, for it was about the tenth hour.  John 1:35-39 
---
FAITH & FOOD TRUCK FRIDAYS
Practice the three pillars of Lent at Holy Trinity on Friday 6th and 20th. PRAY the Stations of the Cross or spend time in Adoration of the Blessed Sacrament. FAST from meat and enjoy some fish/vegetable dishes from the Xclusive Taqueria food truck. GIVE – a portion of all proceeds from the food truck will go to Camp Pendleton's Operation Liberty Call. All are welcome!
---
TAIZE SERVICE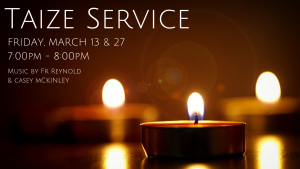 A Taizé worship service involves sung and chanted prayers, meditation, a period of silence, liturgical readings, and icons. Join us on Friday, March 13th & 27th at 7:00pm for an evening of prayer and worship. Music by Casey McKinley and Fr Reynold!
---
PENANCE SERVICE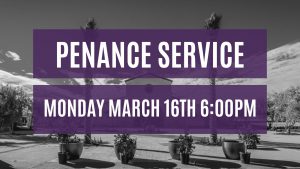 Our Lenten Penance Service will be held on Monday, March 16th at 6:00pm in the church. Priests from around the Diocese will be available to hear your confessions and offer the Sacrament of Reconciliation.
---
LENTEN OUTREACH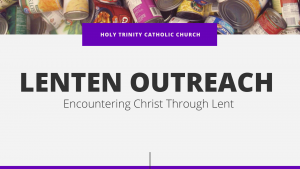 During Lent the Church invites us to participate in three traditional practices – prayer, fasting, and almsgiving. Each weekend through Lent there will be an opportunity to participate in each of these at Holy Trinity.  Our Outreach Ministry will be supporting a different organization each weekend through your almsgiving. Please follow the link  below to find out how you can participate and what items are needed.
---
RECONCILIATION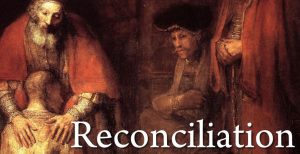 The Sacrament of Reconciliation is available 3:30pm to 4:30pm every Saturday throughout Lent in the Church. PLEASE NOTE: There will not be Reconciliation on Saturday, April 11th (Holy Saturday.)
---
PALM SUNDAY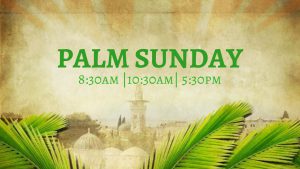 ---
TENEBRAE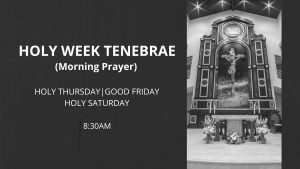 Services of Tenebrae (Latin: Darkness) are among the Ancient prayers of the Church which date back to the 9th century. Traditionally, they are prayed on the mornings of Holy Thursday, Good Friday, and Holy Saturday when Mass is not permitted. The daily readings, psalms, and prayers, emotionally recapture the darkness of the last hours of Christ's life on earth.
---
HOLY WEEK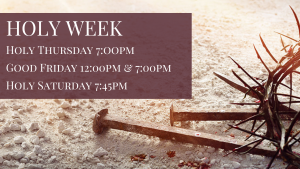 ---