RECONCILIATION
The Sacrament of Reconciliation is available between 3:30pm & 4:30pm every Saturday throughout Lent in the Church. PLEASE NOTE: There will not be Reconciliation on Saturday, March 31st (Holy Saturday)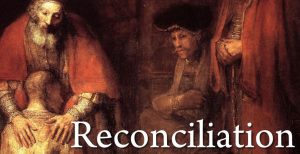 ---
TAIZE SERVICE
A Taizé worship service involves sung and chanted prayers, meditation, a period of silence, liturgical readings, and icons. Join us on Friday, March 2nd at 7:00pm for an evening of prayer and worship. Music by Fr Reynold!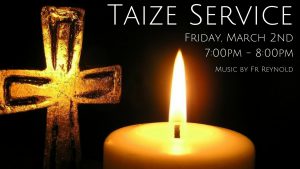 ---
PARISH PENANCE SERVICE
Our Parish wide Penance service on 3/12/18 will also be the celebration of First Reconciliation for 110 elementary aged children enrolled in Sacramental Preparation. It is a blessing that we can come together to participate and welcome all into our community of faith.

---
MEN'S GROUP EVENT

Join the Holy Trinity Men's Group for pizza and a fireside chat with Father Reynold on how we can give ourselves grace for falling short and deciding to make changes now to get closer to God.
Date: March 15, 2018 @ 7pm at Holy Trinity Parish Hall
For questions about this event or Men's Group please email Todd.Maldonado@bmo.com
---
LENTEN DINNER & CONCERT
Join us on March 21st, 2018 6:00pm to 8:15pm for our Annual Lenten Dinner & Concert. We will gather to have dinner together as a community and then enter into a time of praise and worship. We will be joined by singer, songwriter and recording artist Josh Blakesley (more info below). All parishioners are invited to attend! This is a Lenten evening for the whole family (childcare will be provided). Please RSVP your attendance by completing the form below…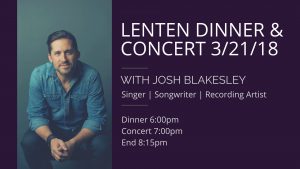 Blakesley has been featured on Sirius XM, EWTN's Life on the Rock, Relevant Radio, KLOVE and has performed with wide variety of Christian artists like Matt Maher, Andrew Peterson, Jars of Clay and the Newsboys; as well as several International Papal events, most recently in Milan, Italy in 2012. He continues to tour heavily with dates booked all over the US and Canada in 2017. He partners with Compassion International as a spokesperson for releasing children from poverty in Jesus' name. He also works directly with the Franciscan University of Steubenville, Life Teen International, Catholic HeartWork Camp, Adore Ministries, as well as many churches, camps and conferences of all sizes in an effort to live out his calling and to "make disciples of all nations." (Matthew 28:18)
---
WOMEN'S DAY OF REFLECTION
 
"Making Room for God in the Busyness"
The Women's Ministry of Holy Trinity Catholic Church invites ALL women of the parish (bring a friend too) for a day of faith, friendship, food and our special guest, Ignatian-trained spiritual director, retreat facilitator and writer Becky Eldredge, presenting "Making Room for God in the Busyness". As NOW women, all can relate with busyness!  To learn more about Becky, visit her website at https://beckyeldredge.com.
The day begins at 9:30am with registration and continental breakfast.  Lunch is provided with time for new friendships .  In our "busyness" the day concludes in time to attend Saturday Evening Vigil Mass with the family (optional). Please see below to RSVP….
DATE: Saturday, March 24, 2018
THEME: "Making Room for God in the Busyness"
PRESENTER: Becky Eldredge – Spiritual Director and Writer
TIME: The day will begin at 9:30am with registration and a continental breakfast and conclude with at 5:00 PM with Saturday Evening Vigil Mass (optional). Lunch will also be included.
COST: $40.00
To pay online CLICK HERE and submit payment to ADULT FAITH FORMATION
---
HOLY WEEK TENEBRAE
Services of Tenebrae (Latin: Darkness) are among the Ancient prayers of the Church which date back to the 9th century. Traditionally, they are prayed on the mornings of Holy Thursday, Good Friday, and Holy Saturday when Mass is not permitted.  It its daily readings, psalms, and prayers, they emotionally recapture the darkness of the last hours of Christ's life on earth.