FAMILY ADVENT WREATH
Join us at Holy Trinity for our Family Advent Wreath event! Following the 10:30am Mass, families are invited to come and make an Advent wreath. All supplies will be provided (1 per family). Suggested donation is $20.
LADIES ADVENT REFLECTION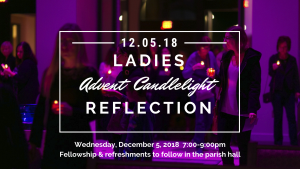 All ladies – and girls – are invited to our Candlelight Reflection Evening. An evening of inspiration to prepare for the Advent season ahead at Holy Trinity Catholic Church. Please invite a friend — this is a beautiful way to enter into the journey of Advent. Fellowship/refreshments will follow in the Parish Hall.
FEAST OF THE IMMACULATE CONCEPTION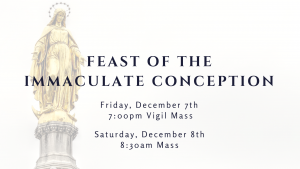 Celebrate Mass with us on this Holy Day of Obligation. We will be having a Vigil Mass at 7:00pm on Friday 7th and then 8:30am Mass on Saturday the 8th.
ADVENT GIVING TREE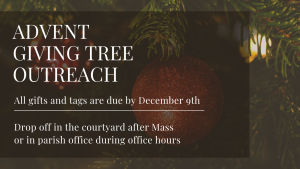 SIGN UP FOR GIFT SORTING/SHOPPING/DELIVERIES TO FAMILIES
For more information please contact Paula Radley at (949) 481-9498
FEAST OF OUR LADY OF GUADALUPE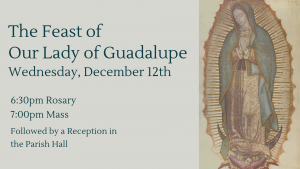 The Feast of Our Lady of Guadalupe, patroness of Orange County, is Wednesday, December 12th. We will be celebrating Mass at 7pm that evening followed by a reception in the Parish Hall.
PARISH PENANCE SERVICE
All parishioners are invited to this penance service as we approach the celebration of the birth of Our Lord. The Sacrament of Reconciliation will be available for all members of the family.
PARENT AND ME CHRISTMAS STORY TIME WITH FR REYNOLD & FR JOHN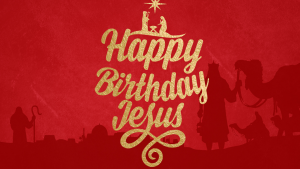 Friday, December 21 at 9:30am our beloved priests will each be reading a Christmas book and ending with a Happy Birthday celebration to Jesus! Birthday cake will be served in the courtyard. We will be meeting in the hall (be prepared to sit on the floor.)