GOOGLE CLASSROOM

Lessons will be sent out on the remaining class dates for 2019-20
PROJECT YM YOUTH NIGHT
This is one way for your middle schooler to connect with their faith online.
Thousands of teenagers from across the country are gathering on Sunday nights for the BIGGEST YOUTH NIGHT EVER. There will be over 1,200 parishes attending. It's called ProjectYM Live and each week it'll feature some of the biggest speakers and worship leaders in the Catholic youth ministry world.
Our parish is signed up to participate – all your middle schooler has to do is head to  PROJECTYM.COM/WATCH every Sunday at 5pm.
Two quick notes:
You don't have to pre-register. The broadcast starts at 5pm, but plan to have your child log in a few minutes early to make sure they're on when it starts.
They can access the event on any device with a web browser – but the faster the connection, the better. They will need a parent email to log on.
P.S. Though this event is geared at teenagers, parents are invited to watch along with them.
---
Welcome to the world of Middle School! We all remember that awkward and confusing phase of Middle School, the years of transition from elementary to high school. Our Middle School Youth Ministry helps young people navigate through those challenging years through the lens of their Catholic faith.
FAITH FORMATION
Beginning in September, we meet for Faith Formation twice a month on Mondays 7:00-8:15pm up until May. We gather as a large group in the church, then break out into small groups according to grade and sometimes by both grade and gender. To conclude the night we all return to the church together recap the lesson, have Home Faith Discussion drawings, and close in prayer.
Middle School Calendar 2019-20
REGISTRATION
Registration is now open. To download your forms please click the link below (we do not accept mail, fax, or email copies.) Registration is $125 – if you submit your forms by September 3rd you will get $25 off the cost of registration.
(If you are printing forms at home please print one sided) 
HOME FAITH DISCUSSION
Home Faith Discussion are questions to be discussed between the parent and child. After you and your son or daughter have engaged in this faith discussion, please print & sign this email to have your child bring it to the next class. There will be a drawing at the end of each class for them to have a chance to win a prize! (one per grade)
PARENT NEWSLETTER
Parents, we want to partner with you in ministering to your Jr High student on their journey of faith. Please check out our monthly newsletter. This is a resource for you – filled with recaps of lessons, articles, videos and upcoming events for the month ahead. We pray that these informative and relevant resources will bless your conversations with your son or daughter.

YOUTH NIGHTS
Once a month, we welcome all 6-8th graders for a time of games, snacks, and fellowship. It's a great opportunity to make new friends and also have some fun! These are held on Friday nights 7:00-8:30pm. Kids are welcomed to bring friends!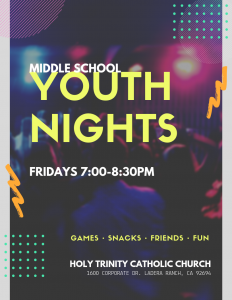 MIDDLE SCHOOL RETREAT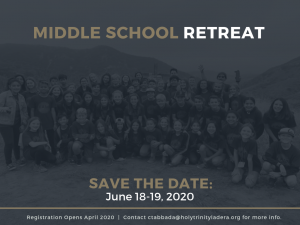 KNOTT'S MSYD
MSYD (Middle School Youth Day) is an event geared to the Middle School Catholic youth community within the Diocese of Orange.
The event is from 10:00am-2:00pm includes worship, prayer, games, talks that are relevant to those in Middle School. Afterwards we will enjoy the park! We will carpool from Holy Trinity along with other parent volunteer drivers.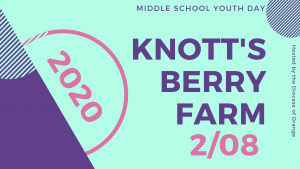 VOLUNTEER
Below are different ways that you can invest in the Middle School Ministry:
ADULT CATECHIST (LEADER): Adult Catechists are assisted by college & high school leaders to implement lesson plans and help facilitate dialogue within the group of Middle School students. Lesson plan and materials will be provided. This commitment lasts through the full Faith Formation year Sep-May.
HOSPITALITY: Provide snacks and treats, cookies, cupcakes, donuts, small water bottles and other goodies for Youth Nights (Fridays once a month).
GIFT CARDS: $5 (or more) gift cards to places such as Yogurtland, Starbucks, Juice-it-up, In-n-out, Baskin Robbins, etc. These are given as prizes for Home Faith Discussion drawings and games.
CASH DONATION: For ministry related items
DRIVER/TRANSPORTATION: I am willing to drive youth to and from events.
PARENT TEAM: Interested in being part of a team of parents who begin to plan and implement activities for the middle school youth.
CONTACT
Chentel Tabbada – Middle School Coordinator
Phone: 949-218-3131 x108 | Email: ctabbada@holytrinityladera.org