"The confession (or disclosure) of sins, even from a simply human point of view, frees us and facilitates our reconciliation with others. Through such an admission man looks squarely at the sins he is guilty of, takes responsibility for them, and thereby opens himself again to God and to the communion of the Church in order to make a new future possible." Catechism of the Catholic Church #1455
MONDAY – FRIDAY
BEGINNING JULY MONDAY 13th The Sacrament of Reconciliation will be available after Daily Mass from 9am to 10am Monday thru Friday. Fr Michael or Fr Charles will hear your confessions outside from a safe distance. Please wear a mask. You can stream Mass at home then drive over or on your phone in the parking lot and walk over afterwards!
---
SATURDAY
The Sacrament of Reconciliation is available 3:30pm to 4:30pm on Saturday outside of the Church.
Fr Michael and Fr Charles will hear your confessions in the plaza outside of the church. Please practice social distancing by keeping at least 6ft between you and our priests (and those waiting for Reconciliation). Please wear a mask or face-covering (masks will be available at sanitization stations.)
The Blessed Sacrament will also be exposed during this time for you to spend time in Adoration.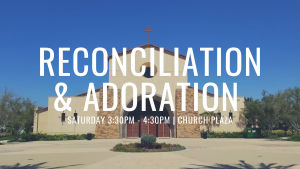 ---
To arrange a time for Reconciliation outside of that time please contact the Church office:
Phone: 949-218-3131 | Email: reception@holytrinityladera.org