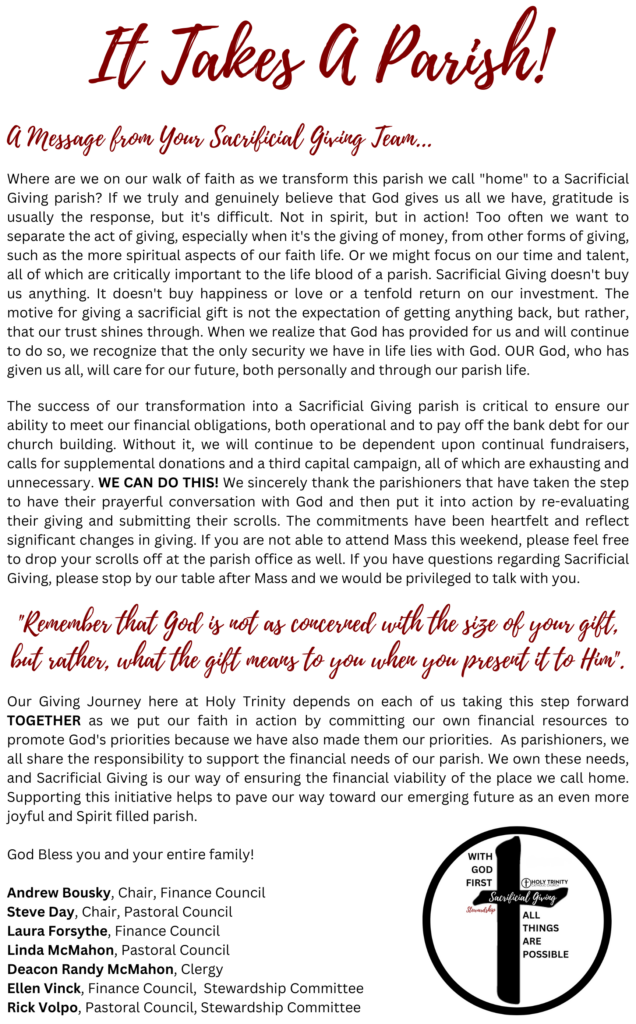 ---
---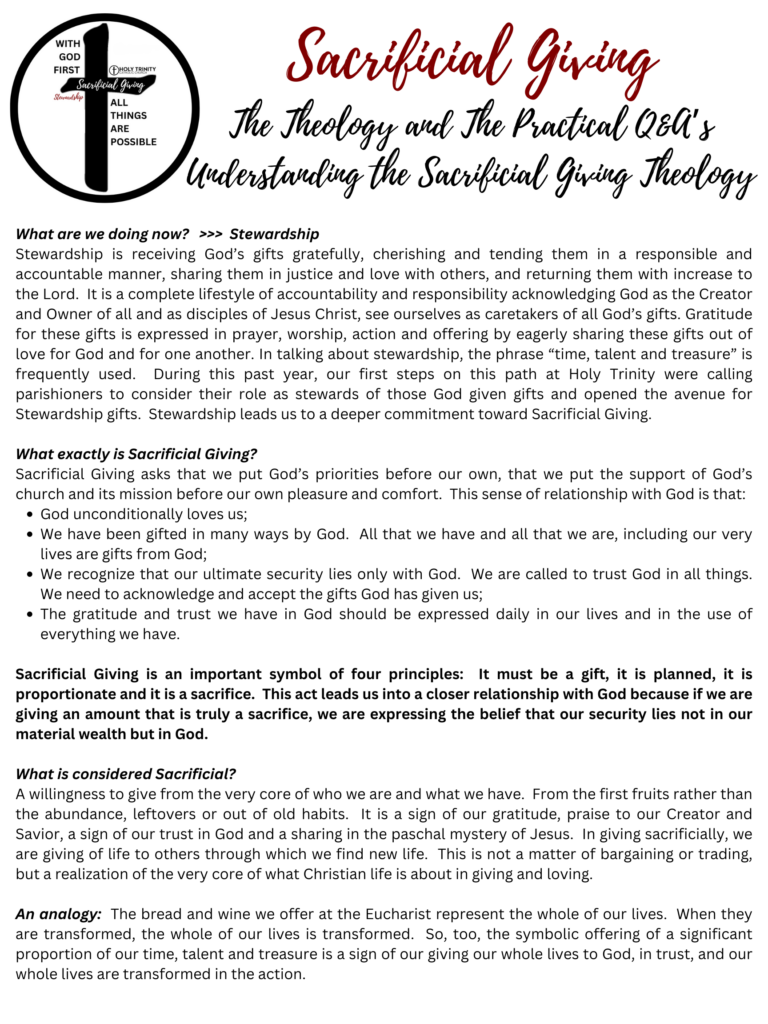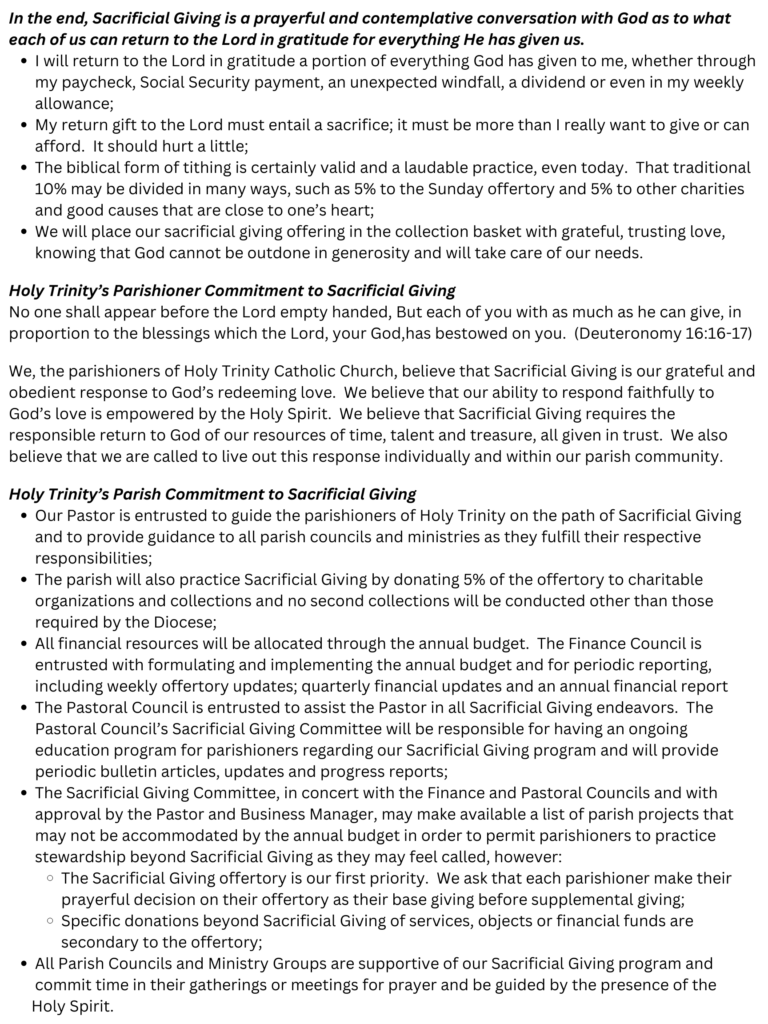 ---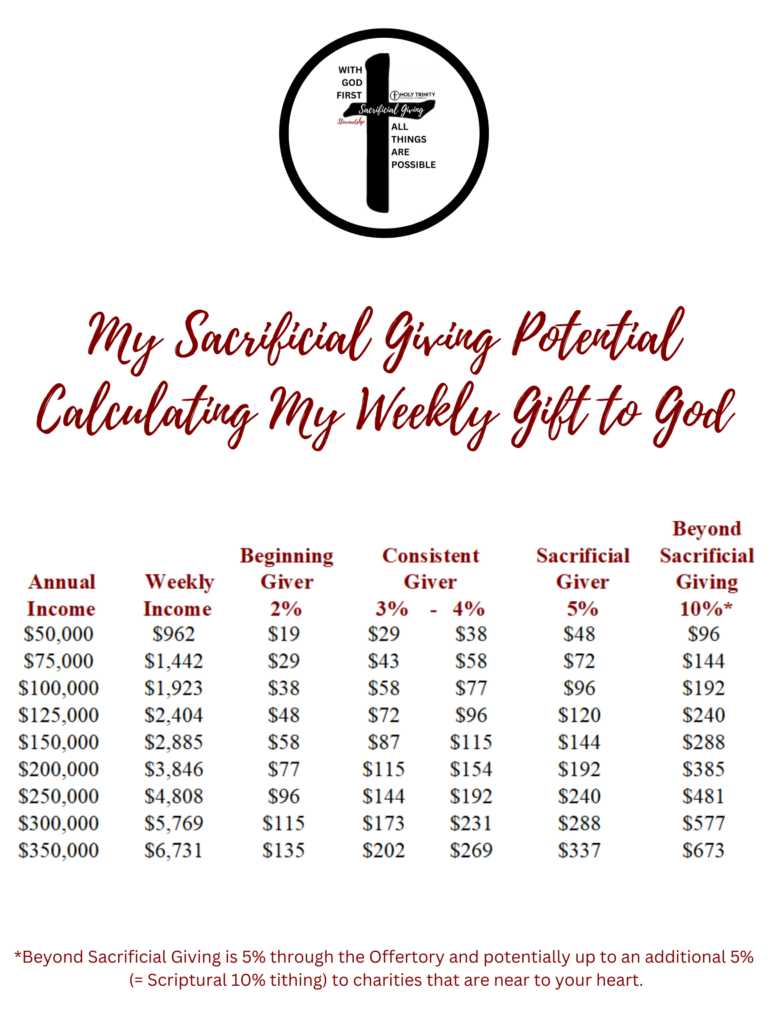 ---
Dear Holy Trinity Family,
It is my privilege to be your pastor at our faith community here at Holy Trinity Catholic Church. Even though Fr. Charles and I have been here less than three years, it seems like many more due to the wonderful friendship and support that have been extended to us by parishioners. These years have certainly proved to be challenging for all of us as we dealt with the effects of the pandemic, both personally and to our parish. We are grateful that God has led us through these troubling times and set us on a secure path forward that now requires our sincere dedication and commitment.
Even though my primary responsibility is to lead us in our mission to place God first in all things, to proclaim the gospel of Jesus Christ and to grow in holiness through prayer, sacraments and service, it is also to ensure that our parish is secure and financially stable, just as you do for your own household.
To ensure our continued ability to live out our parish mission, the Pastoral Council, with the support of the Finance Council and our entire Ministry Leadership team, will be leading us in a new offertory vision that will transform Holy Trinity from a fundraising driven to a faith formation and fellowship driven parish. What does that mean? It means that historically, even pre-pandemic, our annual budget unfortunately, is not completely supported by our actual weekly offertory, requiring the need for continual fundraisers. The new vision is one of a budget supported by the full promise of a Sacrificial Giving offertory, lifted up in commitment by parishioners after a prayerful conversation with God.
In the next weeks, you will hear more about this endeavor and I ask that you give it your full attention as it unfolds. I also encourage you to review the new and robust Annual Parish Report. This new report includes not only our annual financial review, but also a sacramental report and overview on how we provide much needed services to our faith community.
This new shared vision is for our entire community and we believe that it will lead us to know God better, increase our love and caring for our fellow parishioners and neighbors and provide even more opportunities to serve God and others more fully through the inspiration of the Holy Spirit.
Won't you join me in supporting our Pastoral and Finance Councils and our entire Ministry Leadership team in ensuring the success of our next big step together in transforming Holy Trinity into a Sacrificially Giving parish?
God bless you and your families,

Fr. Michael St. Paul, Pastor
---