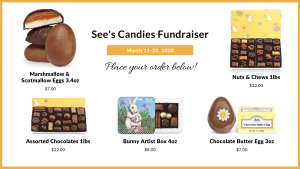 Purchase your Easter candy at Holy Trinity and support your parish in the process! Follow the link below to place your order.
---
Bunny Artist Box – Full of sweetness. Give this sweet gift box to brighten any-bunny's day. Featuring an assortment of milk and dark chocolate favorites, perfect for kids and kids-at-heart. Approximately 10 pieces. 
Chocolate Butter Egg – A mouthwatering treat. Smooth chocolate center drenched in milk chocolate. Decorated with a candy flower. 
Marshmallow & Scotchmallow Eggs – One box, four eggs. A delightful duo of classic Marshmallow and Scotchmallow® eggs. 4 per box.
Nuts & Chews – Satisfyingly crunchy and chewy. Featuring California-grown walnuts, almonds, rich caramel and more, enrobed in layers of milk and dark chocolate. Hand-packed with bestsellers, including Dark Almond, Milk Walnut, Scotchmallow®, Caramel and more.
Assorted Chocolates – Carefully hand-packed with Bordeaux™, chocolate covered nuts, creamy caramels, our famous California Brittle® and much more. 
---