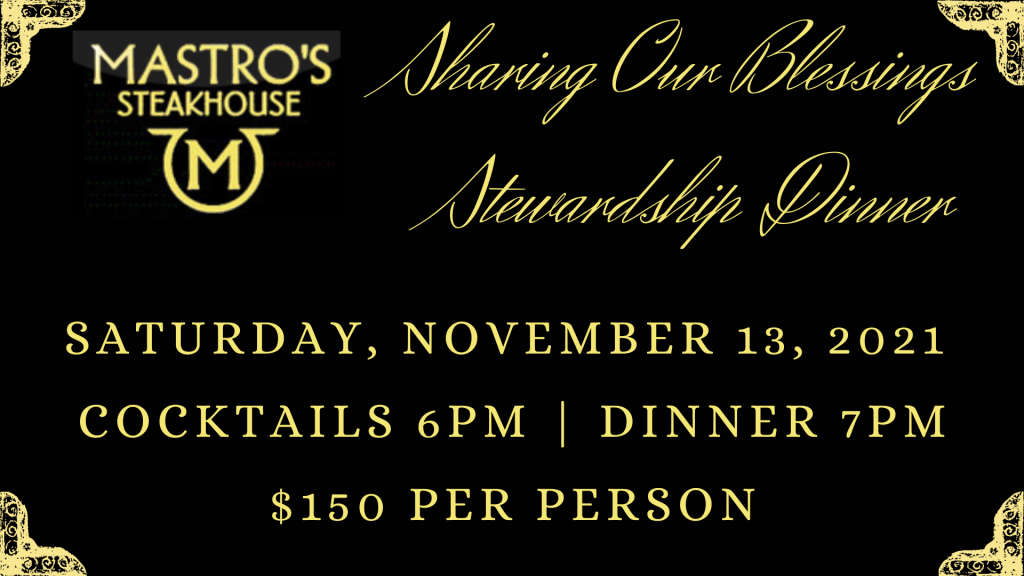 Dear Faithful Parishioners,
Please accept our sincerest invitation to have you join us next Saturday, November 13th at our "Sharing our Blessings" Mastro's Stewardship Dinner. Only with the support and dedication of parishioners like you can this event be as successful as we need it to be.
It is no surprise that these past 18 months have been difficult, not only for our country as we dealt with the challenges of Covid and its many restrictions placed on us, but for our church as well. The effects we felt as we experienced the initial online masses, our gradual return to outside mass and then, with blessings from God, returning to our sanctuary for normal indoor mass have not totally subsided. Our mass attendance has, unfortunately, not rebounded as we would've hoped and the result has been a significant continued decrease in our offertory with a compounding deficit in our annual operating budget.
As we approach the Thanksgiving and Advent seasons, we want to stop for a moment and give thanks for our many abundant blessings.  Our Mastro's Stewardship event will certainly be an evening of fabulous food, drink and good fellowship with other Holy Trinity parishioners, but it will also be an opportunity to come together to raise the critical funds required to bridge the gap on our budget shortfall.  Last year, the dinner raised over $50,000 and with increased attendance and support this year, we are hoping that we can raise $100,000 which will have a significant impact on our $160,000 operating budget deficit.  We are also hopeful that this event, if successful, can eliminate the need for our Annual Gala, which becomes more difficult to produce each year.  If you normally attend our Gala, can we encourage you to attend Mastro's in place of that event this year?  Or if you are a regular Mastro's attendee as well, consider donating what you normally would for both events at our Stewardship Dinner?
As of 7:00pm Thursday, November 11th, we only have 2 more reservations available. Please contact Lyssa Rollolazo at lrollolazo@holytrinityladera.org to check availability.
We realize that schedules can conflict and everyone is more than busy these days. If you are not able to attend our Stewardship Dinner, can we depend on you to consider making an online donation, marked for "Stewardship" on our parish website? We appreciate and thank you for that prayerful decision.
Thank you for your prayers and participation as stewards of our wonderful faith filled community. Our blessings to you and your entire family as we approach the wonderful seasons of Thanksgiving and Advent.
With Gratitude in Christ's Name,
Fr. Michael St. Paul, Pastor
and
Ellen Vinck on behalf of the entire Holy Trinity Stewardship Committee