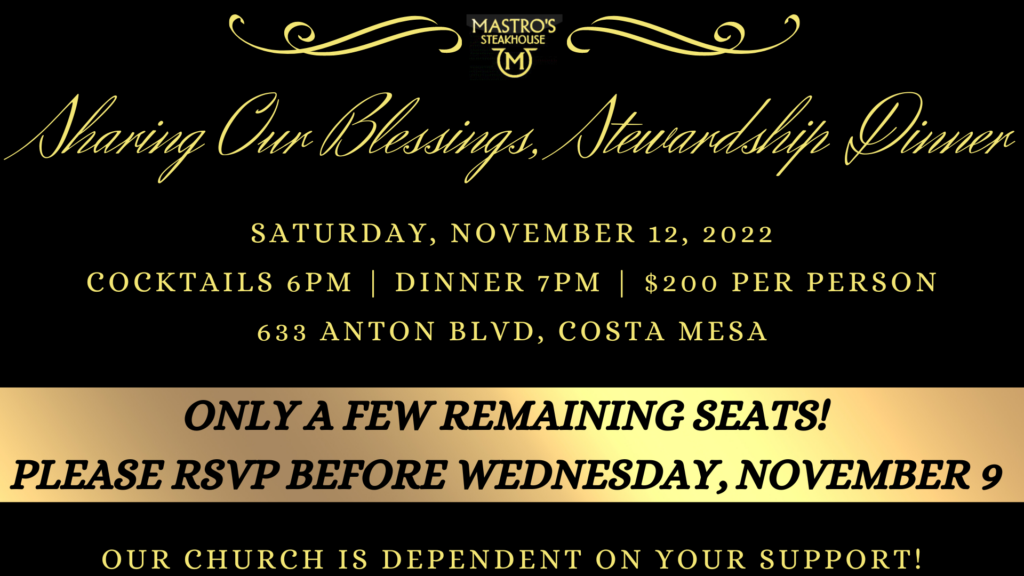 Dear Faithful Parishioners,
Please accept our sincerest invitation to have you join us this Saturday, November 12th at the "Sharing Our Blessings" Mastro's Stewardship Dinner. Only a few seats remain available! Can you help us "sell this out" or, even more importantly, can you help us meet our Stewardship goal even if you are unable to attend?
Last year, the dinner sold out and we raised almost $90,000 of our $100,000 goal! For the first time ever, $15,000 was donated by parishioners unable to attend the event, but wanting to participate in it's success. Such an amazing tribute to our faith family sticking together! Again, we are counting on your generous participation so that this year we can meet our $100,000 goal.
As we approach the Thanksgiving and Advent Seasons, we all need to stop for a moment and give thanks for our many abundant blessings. Our Mastro's Stewardship event will certainly be an evening of fabulous food, drink and good fellowship with other Holy Trinity parishioners, our beloved priests, and special guest Rev. Angelos Sebastian, our Diocesan Vicar General.
In addition, it will be an opportunity to come together as a faith family to raise the critical fundraising revenue required to support our offertory in meeting our annual budget requirements. We sincerely hope you will join us!
There are only a few available seats!
Please RSVP before Wednesday, November 9th.
We realize that schedules can conflict and everyone is more than busy these days. We also know the effect inflation is having on not only our own personal finances but our church finances as well. If for any reason, you are not able to attend our Stewardship event, can we ask you to prayerfully consider making an online donation, marked for "Stewardship" on our parish website? While we will miss your presence at dinner, your donation will still have a significant impact in achieving our goal, no matter the amount!
Even though last year was the first year supporting Stewardship contributions were made, we are currently falling significantly short of achieving this important part of our fundraising goal. Thank you for your prayerful consideration!
With faith in God, a day will come when the Sunday offertory will meet our operating budget needs. In the meantime, we lean on each other as faithful Stewards to support this event, in person or in spirit by giving generously in support of our spiritual home here at Holy Trinity.  We sincerely thank you for your prayers and participation as stewards of our wonderful faith filled community. Our blessings to you and your entire family as we approach the wonderful seasons of Thanksgiving and Advent.
With Gratitude in Christ's Name,
Fr. Michael St. Paul, Pastor &
Ellen Vinck on behalf of the entire Holy Trinity Stewardship Committee