December
"For to us a child is born, to us a son is given;
and the government shall be upon his shoulder,
and his name shall be called Wonderful Counselor,
Mighty God, Everlasting Father, Prince of Peace." – Isaiah 9:6
---
---
If you picked up a Advent Giving Tree Tag please return your gift donation by
Sunday, December 6th – Thank you!

---
South County Stocking Stuffer Drive
All Donations Due December 6th!
---
Ministry Reflection
Saturday, December 5
10:00am – 12:00pm
Father Michael and Father Charles invite all who are active in the Liturgical Ministries to a special Ministry Reflection on Saturday December 5th, 2020 from 10:00am-12:00pm on the Church Plaza. This is a time for those who serve to recharge, connect and focus on the purpose of why we serve. Please RSVP to let us know if you are coming. Thank you and God bless you for your heart to serve Holy Trinity!
---
---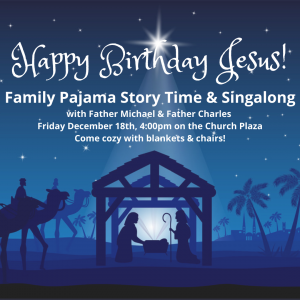 ---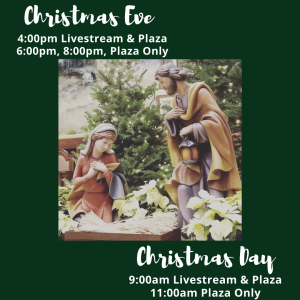 Due to the current COVID-19 curfew restriction midnight Mass on
Christmas Eve has been moved to 8:00pm
---