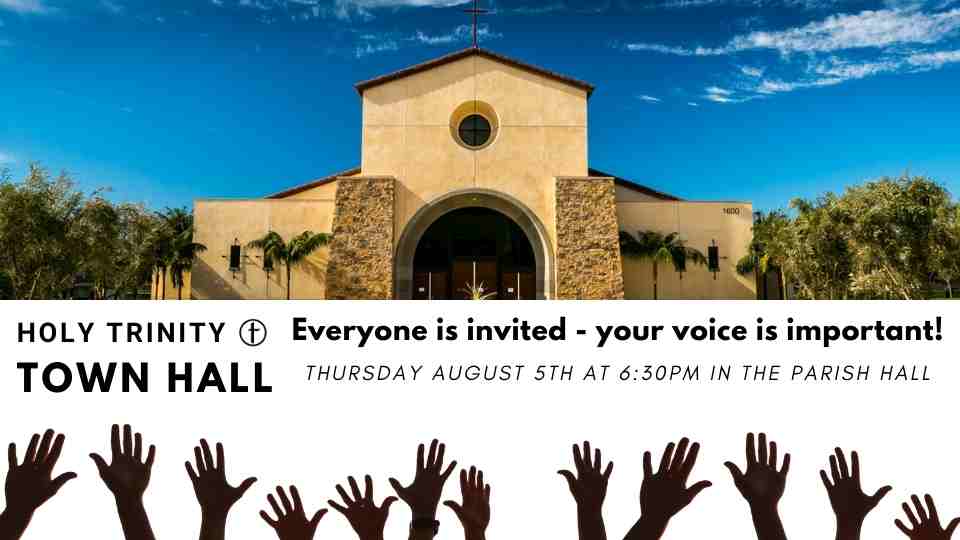 Your voice is important. That is why we are gathering on Thursday August 5th at 6:30pm for a Town Hall- Parish Update. The evening will be facilitated and moderated by Michael Hunn who is a strategic planning advisor to the Diocese of Orange. Here is the schedule:
Introductions: Michael Hunn
Welcome & Opening Prayer: Father Michael St. Paul
Parish Evangelization & Faith Formation Actives Overview
Parish Stewardship & Finance Overview
Pastor Interview & Questions
Closing Prayer
Social Hour
Your input and support is valued to help shape the future of our parish community. There will be an opportunity to submit questions to the moderator the night of. However, to help with preparation, please take a moment to prayerfully fill out a short anonymous form to submit your responses in advance.
We look forward to the outcomes of this gathering. The Bible says the Holy Spirit is present whenever believers gather together (Matthew 18:20). Together with The Holy Spirit and the Grace of God, through His Son Jesus Christ, we can accomplish great things. Thank you for your continuous support and prayers building up the Kingdom of God at Holy Trinity.