BEST ADVENT EVER
"What would it take for you to have the best Christmas of your life?"
Sign up for this free email program from Matthew Kelly & Dynamic Catholic to truly enter into the season of Advent
– https://dynamiccatholic.com/best-advent-ever
ADVENT GIVING TREE
We are praying, sorting, and shopping for final gifts and distribution of our Advent Giving Tree needs.
Thank you to all who participated in sharing the love of Christ in a tangible way!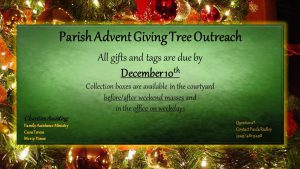 RECONCILIATION & PENANCE SERVICES
The Sacrament of Reconciliation will be available on Saturday, December 16th 3:00pm – 4:30pm in the church. It is also possible to schedule an appointment to receive the Sacrament of Reconciliation by contacting the church office to arrange a time to meet with Fr. Reynold.
Phone: 949-218-3131 | Email: reception@holytrinityladera.org
There are also some local penance services this Advent season on the following dates:
Monday, Dec. 11 St. Edward's-Dana Point
Wednesday, Dec. 13 Corpus Christi- Aliso Viejo
Wednesday, Dec. 13 St. Kilian-Mission Viejo
Thursday, Dec. 14 Mission Basilica- San Juan Capistrano
Monday, Dec. 18 St. Timothy's-Laguna Niguel
Wednesday, Dec. 20 Our Lady of Fatima-San Clemente