Lent is a season of fasting, prayer and almsgiving in preparation for Easter. Please see below for a list of resources that will help guide you through the season of Lent and help you stay on track with daily prayer and reflections.
---
LENT WITH BISHOP BARRON
Spend time with Christ in the Gospel this Lent alongside Bishop Barron and the Word on Fire community. Would you like to receive daily Gospel reflections in your inbox every morning? SIGN UP HERE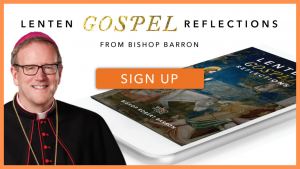 ---
FORMED
FORMED On Demand is a subscription service offering access to thousands of studies, films, audios, and e-books. We have purchased this resource for our Parish! FORMED has several Lenten resources for you (see below) – daily reflections, study programs, and devotionals. To register for this resource, click HERE.
Christ's love for you is bursting forth. Embrace him and let his mercy pierce your heart during this Lenten season. Join us for a 40-day journey of welcoming his tender love, beginning with these short, daily videos from Scripture scholar Dr. Tim Gray. Live in Christ's love and let him transform your life.Sign up to receive these reflections straight to your inbox every morning: https://formed.org/lent
---
BEST LENT EVER
What Is BEST LENT EVER? It's a free email program that will guide you on an incredible journey toward the-best-version-of-yourself. From Ash Wednesday to Easter, you'll discover ways to transform your life in forty days.
---
LENT MADE SIMPLE
Unsure what to do for Lent this year? It's not about impressing Jesus, its about letting the Lord speak to you. Andy Lesnefsky has 10 great suggestions on where to start! Sign up for a Lent Made Simple at HERE.