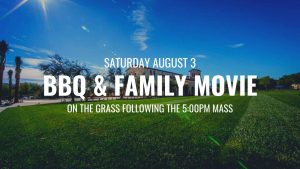 All are invited to our BBQ & Family Movie on Saturday, August 3rd. Immediately following the 5:00pm Mass (6:00pm) we will gather on the grass for food, fun, and a film. RSVP BELOW!
Beach chairs? Check! Blankets? Check! Confirmed our attendance? Check!
We want to keep our grass area thriving! Beach chairs & blankets can be put out after Mass. There will be games for all to enjoy prior to the movie beginning at dusk. To better prepare for the meal, please register your friends and family below. A donation of $5.00 per person or $20.00 per family will be collected that evening.
Contact: Diana Leary – dianaleary@cox.net
---
SUMMER OUTREACH
During the summer donations slow down for South County Outreach so they need help filling their shelves. On the same weekend as our BBQ & Family Movie (Sat 3rd / Sun 4th August) we will be collecting the following items after all Mass times. Thank you for your generosity!
Peanut Butter
Jelly (all flavors)
Oatmeal (packages and small cylinder containers – all flavors)
Breakfast Bars (granola/protein – Quaker brand is popular)
Canned Fruit (any kind)