All Saints Day is a special feast day on which Catholics celebrate all the saints, known and unknown. While most saints have a particular feast day on the Catholic calendar, not all of those feast days are observed. And saints who have not been canonized — those who are in Heaven, but whose sainthood is known only to God — have no particular feast day. In a special way, All Saints Day is their feast.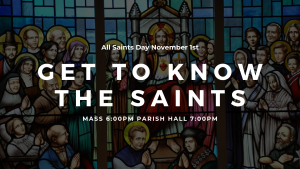 All Saints Day Mass is a Holy Day of Obligation (Opportunity) and will be celebrated on Friday, November 1 at 6:00pm. After Mass, please join ministry representatives in the hall for refreshments, scavenger hunt (for the littles) and the saint's each ministry has chosen that encourages them in discipleship and service.
Adult Faith Formation, Outreach Ministry, Men's Group, Women's Group, Young Adults, Safe Families, Advent Giving, Music Ministry, Liturgical Ministries, High school ministry, Elementary & Jr High ministry and MOPS (Mothers of Preschoolers) welcome you to this first time event!
If you have any questions, please contact Barbara Conn littlemockingbird@cox.net