FR CHARLES TRAN
Fr. Charles Tran was born in Vietnam and raised Catholic. He was an altar server from the second grade until he graduated from high school.
He credited being close to the altar and participating in the Vietnamese Eucharistic Youth Movement as experiences that helped deepen his faith and increased his love for the Eucharist and the priesthood.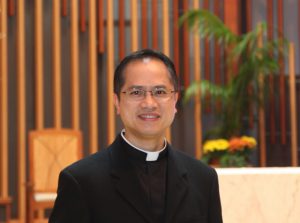 Fr. Charles completed his theological studies at St. Patrick's Seminary & University and was ordained to the priesthood by Bishop Kevin Vann in June 2014. Our Lady Queen of Angels Church was his first assignment as a priest where he served for four years. Afterwards, he was assigned to St. Norbert Church for two years.
Fr. Charles looks forward to serving the community at Holy Trinity Church. He humbly requests that everyone prays for him and helps him to be an instrument of God's love.