Our mission is to inspire adults through the active study of scripture and to create an atmosphere of community, with Christ at the center of all we do.
---
ENCOUNTERING CHRIST WILL CHANGE YOUR LIFE!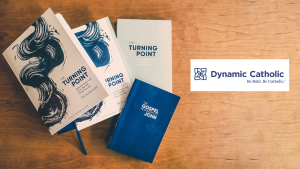 TURNING POINT is a new Adult Bible Study beginning in September 2019! You may join at any time!
The people and stories in the Gospel of John: the woman at the well; a man named Nicodemus; the woman caught in adultery; turning water into wine at the wedding in Cana, and more are stories of people transformed by their encounters with Jesus. By entering into their miraculous stories, you and everyone in your group will encounter Jesus in a personal way and develop a deeper relationship with him that will transform your everyday life.
Register below or in the office! See the meeting schedule at the bottom of this page. 
Fee: $10 – refreshments included – We are sold out of books. Please purchase your book from Dynamic Catholic https://dynamiccatholic.com/the-turning-point-workbook or Amazon.
Thursday, September 19 – Introduction
Thursday, September 26 – The world encounters Jesus
Thursday, October 3 – The wedding party encounters Jesus
Thursday, October 10 – Nicodemus encounters Jesus
Thursday, October 17 – Two wayward women encounter Jesus
Thursday, October 24 – Hungry crowds encounter Jesus
All meetings will be held in the Parish Hall from 7:00pm – 8:15pm.