Parent Home Guides will be sent on Tuesday mornings each week based on the schedule for Homework and In-Class Assignments. We also include other family resources.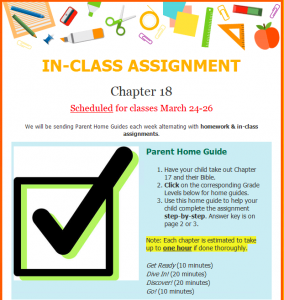 ---
Welcome to Faith Formation at Holy Trinity! This is a time for your child to learn about and grow in their faith. We are excited & honored to partner with you and your children. Faith Formation classes are offered for elementary aged children (grades 1 – 5) twice a month on Tuesday, Wednesday, or Thursday afternoons from September-May.
Registration is now open! See the links below to download the registration packet and class calendar. Please deliver your completed forms and payment to the front office anytime during our weekday office hours (M-F, 9am – 5pm or 8am-12pm on Sunday.) We do not accept mail, fax, or email copies. Registration is $125 – if you submit your forms by September 3rd you will get $25 off the cost of registration.
(If you are printing forms at home please print one sided) 
PLEASE NOTE:
1st Grade Classes
Tuesdays from 3:30-4:45pm: CLASS IS FULL
2nd Grade Classes
Tuesdays from 3:30-4:45pm: CLASS IS FULL
Tuesdays from 5:15-6:30pm: CLASS IS FULL
Wednesdays from 3:30-4:45pm: CLASS IS FULL
SACRAMENTAL PREPARATION
For children in grades 1-5 who require Sacramental Preparation for First Reconciliation and Eucharist, please visit our Sacramental Preparation page or contact Paula Baytieh
PARENT VOLUNTEER

This year we are continuing parent volunteer days in the Faith Formation classes. Since parents are the primary catechists in their children's faith development, we'd like your participation and support in their Faith Formation classroom. Upon registering you are to circle your top 3 dates that correspond to your child's class day and time. You are required to serve in your child's classroom ONLY ONCE over the course of the school year and we will schedule you based upon your preferences. You will help the catechist check homework, help individual children as needed, and assist with small group work. Your child's catechist will try to send you a reminder, but please be sure to add the date you are signed up for to your calendar. Click the links below to view the schedule
Parent Volunteer 2019-20
Grade 1
Grade 2
Grade 3
Grade 4
Grade 5
VOLUNTEER
Questions?  Contact: Chentel Tabbada