Faith Formation is a process for baptized children to be 'formed' in faith:
"And yet, O Lord, you are our Father. We are the clay, and you are the potter.
We all are formed by your hand."
Isaiah 64:8
Faith Formation is a time for children in grades 1-5 to learn about our precious Catholic Faith and establish a personal relationship with Jesus Christ. We are excited and honored to partner with you and your children in their faith journey. Through forming a personal relationship with Jesus Christ, elementary school-age children build a strong foundation for lifelong discipleship.
Typically kids start Faith Formation in the first grade either at Catholic school or at their parish. No matter what grade children start Faith Formation they are ready to start preparing for the Sacraments of First Reconciliation and First Communion in their second year of Faith Formation through Sacramental Prep. However, they should continue on their journey of Faith Formation after their sacrament year even though it is not required. Our goal is to provide kids with both tools and opportunities to experience God in their lives.
Faith Formation runs on the same schedule as the school year. Classes are held twice a month at Holy Trinity Catholic Church on Mondays and Tuesdays from 3:30-4:45pm and 5:30-6:45. This year we are throwing out the workbooks and homework to focus on encountering Christ through experiences at our parish home, Holy Trinity. In addition to classes, Faith Formation Families are asked to attend a minimum of four Holy Trinity 'Elementary Encounters'. Elementary Encounters are simply some of the best events and gatherings Holy Trinity has to offer! The goal is for Faith Formation Families and students to experience church as a Catholic Community. After all, church is not someplace to go. WE ARE THE CHURCH! There are plenty of Elementary Encounter opportunities listed on the calendar. While only four are required for Elementary Faith Formation, we are positive you will want to attend all the Elementary Encounters! Faith Formation Families will need to scan a QR code at the event for proof of attendance. Click Here for a printable Elementary Faith Formation Schedule.
Registration is currently closed. If you are a transfer student and need to register please contact Karina Perea at kperea@holytrinityladera.org.
MASS TIMES
The hallmark and foremost expression of our Catholic identity is participation in Mass. Faith Formation Families are expected to respond to the invitation which we humbly and graciously accept as Catholics. Without a regular commitment to Mass the Faith Formation experience falls flat as the Eucharist is the Source and Summit of our Catholic Faith.
Weekend Mass Times
Saturday Vigil 4:00pm
Sunday 8:30am, 10:30am, 5:30pm
Sunday 1:00pm Spanish Mass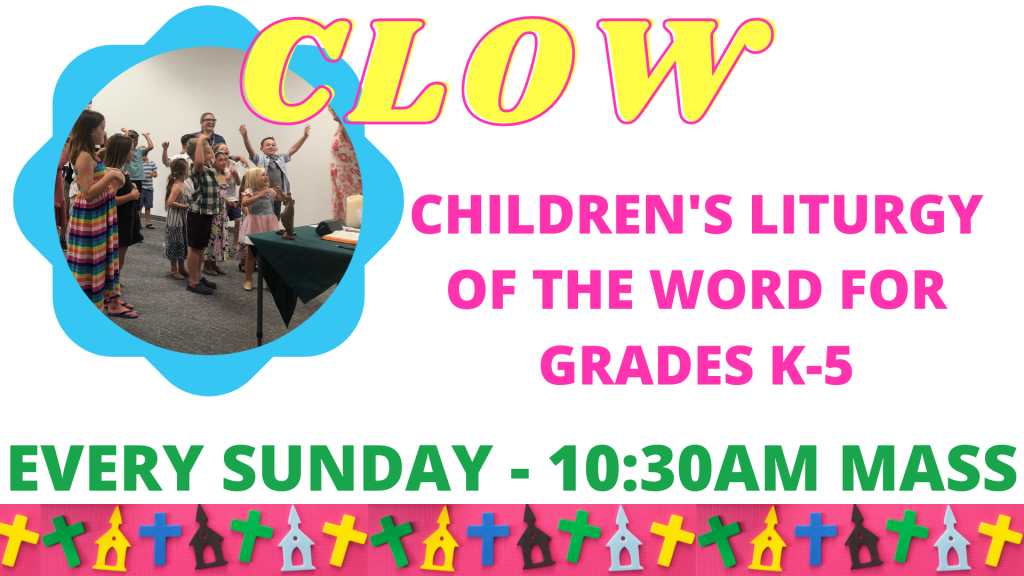 CHILDREN'S LITURGY OF THE WORD
Children's Liturgy of the Word (known as CLOW) is the Liturgy of the Word adapted as a worship experience for children between kindergarten and fifth grade, helping them understand the Gospel message and participate at "their" level.
CLOW is offered Sundays at Holy Trinity during the Sunday 10:30am Mass, with the exception of a few major holidays. The children attend the beginning of Mass with their parents until the end of the Introductory Rites. The priest will invite the children to come forward for a blessing and dismiss them from Mass with the CLOW Catechist and Adult support. They will return to the church immediately after the Prayers of the Faithful.
SACRAMENTAL PREPARATION
No matter what grade children start their Faith Formation journey they are ready to start preparing to receive the Sacraments of both First Reconciliation and First Holy Eucharist in their second year of Faith Formation. Children in grades 2-5 who are in their second year of Faith Formation should also register for Sacramental Prep in addition to Faith Formation.
Please visit our Sacramental Preparation page for registration information.
ADDITIONAL QUESTIONS PLEASE CONTACT
Karina Perea
Elementary Faith Formation Coordinator
Email: kperea@holytrinityladera.org.
Phone: (949) 218-3131 ext 104