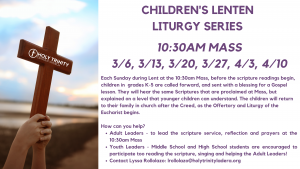 CHILDREN'S LITURGY OF THE WORD
Children's Liturgy of the Word (known as CLOW) is the Liturgy of the Word adapted as a worship experience for children between kindergarten and fifth grade, helping them understand the Gospel message and participate at "their" level.  Therefore, the Catechist and Adult volunteers support their Sunday obligation and fully participate in reception of Holy Communion.
When is the CLOW dismissal?
CLOW is offered Sundays at Holy Trinity during the Sunday 10:30am Mass, with the exception of a few major holidays.  The children attend the beginning of Mass with their parents until the end of the Introductory Rites.  The priest will invite the children to come forward for a blessing and dismiss them from Mass with the CLOW Catechist and Adult support.  They will return to the church immediately after the Prayers of the Faithful.
How can I help?
Join the ministry in a Catechist Role or Adult Support Role.   We must have a CLOW Catechist and Adult Support at each dismissal time!  This is a safety factor for the children put into our care.  Therefore, we must have two participating adults when the priest dismisses the children.  If two adults are not available, the priest will advise the children to return to their parents and there will not be a dismissal for the Mass time!   We need your help!
"Yes Lord!"
Contact Lyssa at lrollolazo@holytrinityladera.org  with any questions and/or concerns along with your willingness to serve as a Catechist or Adult Support.  A CLOW catechist will contact you to schedule a best time to begin training, preparing and mentoring you into this wonderful ministry to the youngest of these!  God bless you!
"Permit the children to come to me, do not hinder them; for the kingdom of God belongs to such as these"  – Mark 10:13