SINGERS
There is a consistent need for singers at every liturgy throughout each weekend at Holy Trinity. If you have experience singing in an ensemble or choral setting, have a basic ability to read music and love to serve others, we encourage you to look into singing at Holy Trinity.
-Rehearsals are once a week on Tuesdays from 6:30-7:45pm.
INSTRUMENTALISTS
Instrumentalists of all kinds are needed to serve at the weekend liturgies at Holy Trinity. If you possess a level of mastery of an instrument, have both music-reading and improvisational skills and love to play in a band setting, then please consider using your skills to serve the Holy Trinity parish community.
-Rehearsals are once a week on Tuesdays from 7:45-9pm.
For additional information, please contact:
Brian Madigan, Director of Music – bmadigan@holytrinityladera.org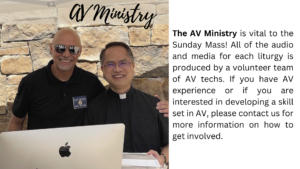 AV TECHS
All of the audio and media for each liturgy is produced by a volunteer team of AV techs. If you have AV experience or if you are interested in developing a skill set in AV, please contact us for more information on how to get involved.
For additional information, please contact:
Brian Madigan, Director of Music – bmadigan@holytrinityladera.org