COVID-19 UPDATE
The organizations that we are seeking to support are in dire need of resources, especially now!  Therefore, we will continue to support the Outreach efforts until the "GOVERNOR'S ORDER FOR ALL CALIF. RESIDENTS TO REMAIN AT HOME, EXCEPT ESSENTIAL SERVICES INDIVIDUALS" ends.  As we are not meeting, we have the storage space.  Please see the following in helping to continuing to serve:
You may drop off or ship your donations to the parish office during the week.  If you decide to drop off, please leave outside the door and someone will bring into the office.  If you are unable to drop off, please call the office (949) 281-3131 and leave a message as we have a list of kind parish members who have offered to pick up items if needed. God bless your desire to serve others most in need during this time of concern and prayer. Peace always in the living God!
To help with shipping costs, you may ship all three weeks donated items together.
Holy Trinity Catholic Church, 1600 Corporate Drive, Ladera Ranch, CA 92694.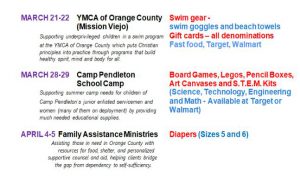 ---
Every Lent the Church invites to the three traditional practices of prayer, fasting, and almsgiving. Although the word almsgiving does not come up much in regular conversation, Catholics hear it plenty during Lent since it is one of the three pillars of the church's Lenten practices along with prayer and fasting.
Although the three practices work together, almsgiving can sometimes get the short shrift because people might be more apt to pray and fast — in private or at church — than they might reach out to those in need. The church defines almsgiving as donating money or goods to the poor and performing other acts of charity. The Catechism of the Catholic Church describes it as "a witness to fraternal charity" and "a work of justice pleasing to God." (CCC Part Three #2447)
There is plenty of biblical support for this practice in both the Old and New Testaments. In the Gospel of Matthew, Jesus urged his disciples not to brag about helping others saying: "When you give alms, do not blow a trumpet before you, as the hypocrites do in the synagogues and in the streets to win the praise of others." (Matthew 6:2)
An Old Testament passage puts almsgiving at the top of the Lenten practices: "Prayer with fasting is good. Almsgiving with righteousness is better than wealth with wickedness. It is better to give alms than to store up gold, for almsgiving saves from death, and purges all sin. Those who give alms will enjoy a full life" (Tobit 12:8-9).
Each weekend through Lent is an opportunity to participate in preparing our hearts to give generously.  Below is a list of items for an organization we will support by your almsgiving. Please bring to the Saturday and Sunday Mass times, helping us honor our commitment to deliver the items to the organization in a timely manner. Please PRAY for those who will be distributing and receiving the items.  Please FAST by skipping a dinner or lunch or a coffee stop to provide more generously.  You will be participating in the three practices of the Catholic faith during Lent with your ALMSGIVING.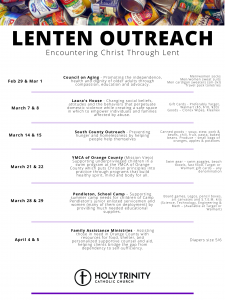 ---
THANK YOU