JR HIGH RETREAT

All 6-8th graders are welcomed to attend our annual Jr. High Retreat. There will be faith-filled talks, worship, games, fun, and more!
Date: Monday, June 18th 10:00am to Tuesday, June 19th 12:00pm
Location: Santiago Retreat Center 27912 Baker Canyon Rd. Silverado, CA 92676
Price: $80 (includes accommodation, food, & t-shirt)
Contact: Chentel  | (949) 218-3131 ext. 108  | ctabbada@holytrinityladera.org

Registration is open! Don't miss out!
Register here: JH Retreat 2018 Registration Form
Please also complete Minor Permission & Behavior Contract
Complete forms and turn in to the office or scan and email to ctabbada@holytrinityladera.org
---
APRIL YOUTH NIGHT – LASER QUEST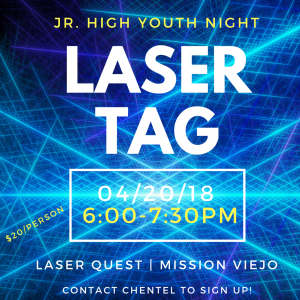 April Youth Night_Minor Permission Slip
---
YOUTH NIGHTS
Once a month, we welcome all 6-8th graders for an evening of games, snacks, and fellowship. It's a great opportunity to make new friends and also have some fun! These are held on Friday nights 7:00-8:30pm. Kids are welcomed to bring friends! See our parish calendar for dates.
---
PARENT NEWSLETTER
Parents, we want to partner with you in ministering to your Jr High student on their journey of faith. Please check out our monthly newsletter. This is a resource for you – filled with recaps of lessons, articles, videos and upcoming events for the month ahead. We pray that these informative and relevant resources will bless your conversations with your son or daughter.