COVID-19 UPDATE
Ministry has not stopped! Even though we are all under quarantine and practicing social distancing, Holy Trinity Youth Ministry continues to serve the youth of our parish. We want to offer ways to keep us all connected and engaged in our faith despite not being able to gather in person.
---
ZOOM BIBLE STUDY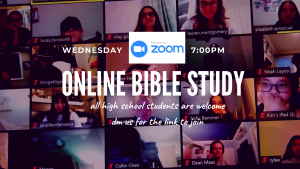 Our usual Wednesday night but rather than meeting in the Parish Hall we will meet online through ZOOM (video conference). All high school students are welcome! Fellowship and games before we share and reflect on Sunday's Gospel passage. We meet from 7pm to 9pm. Contact Andrew for the link to join.
---
GOOGLE CLASSROOM
All Year 1 & Year 2 Confirmation classes are now on Google Classroom! Please check your emails on how to get access to all of the lessons and assignments.
---
DIGITAL DONUTS
Sunday after Mass is normally when we open up the Youth Ministry office for everyone to hang out, eat their donuts, and chat about Confirmation or whatever is going on in the world. Like Wednesday, we have moved this to ZOOM. All are welcome to join! It will be a weekly opportunity to be in community, ask any questions about Confirmation classes, pray with us…do what we normally do. Contact Andrew for the link to join.
---
BIBLE REFLECTION
All high school students are invited to join us for Bible Reflection every Wednesday from 7:00pm to 9:oopm. We gather in the Parish Hall for some food, fellowship and games before we share/reflect on the upcoming Sunday Gospel. All are high school age students (and friends) are welcome.
---
HIGH SCHOOL YOUTH NIGHTS
Our monthly Youth Nights invite all high school aged students to join us for an evening of community. We meet once a month at either Holy Trinity or a local venue. Whether it is a movie or game night, bowling, Christian music concerts or broomball…there will always be dinner! We would love to see you there. All upcoming Youth Nights will be posted on our parish calendar and social media (Instagram/Facebook).

---
DONATIONS
Would you like to contribute to our ministry? Please fill out the form below. Thank you for your generosity!
Please click here to make a cash donation under "Youth Ministry"
---
STEUBENVILLE SAN DIEGO

Steubenville San Diego is a Catholic conference for teens. And it is so much more than a conference! It's a retreat weekend and a transformational experience. Evangelistic in nature, authentically Catholic, Steubenville San Diego is a weekend filled with great speakers, engaging music, reverent Mass and prayer, and tremendous fellowship. Through powerful witness, inspiring worship and dynamic liturgies, Steubenville San Diego offers youth, young adults and leaders the opportunity to encounter Christ and to see the truth and beauty of our Church. To be loved so that they may go out into the world and love one another!
Steubenville is open to all incoming Freshman in the Fall of 2019. For more information click here
---
SERVANT LEADER TEAM
Servant Leadership is open to all Holy Trinity students who have been confirmed and currently in their junior or senior year of High School.  The team serves our Church in various ways – as co-catechists in our Middle School and Confirmation programs, small group leaders on retreats and with various Youth Ministry and parish-wide events. If you would like to get involved please contact Andrew by email.

---
THE SACRAMENT OF CONFIRMATION
The Sacrament of Confirmation is available to all high school students in 9th grade (or above). For more information on the Confirmation journey here at Holy Trinity please click here.
---
DISCIPLESHIP DISPLAYS 2019
As part of their journey towards the Sacrament of Confirmation, candidates are invited to get involved in acts of discipleship (service) in their community. All Candidates are then asked to create a display that highlights their area of service that is shown as part of our Discipleship Display Weekend. After Mass on February 24th we presented these to displays to the parish community in our Parish Hall. This was the first year that we went digital (no more poster boards!) and the candidates did a fantastic job not only with their displays but their acts of love and kindness in their community. Please see the videos below for all of the displays by our Year 2 Candidates. Just press pause if you want more time to read them.
The world calls us to use our gifts and talents are for personal gain – "what do I get out of it? What will it do for me?" God's call is different; it allows us to share our lives with others in response to knowing our gifts, talents and passions are from God.