NEW LEADERSHIP FOR THE WOMEN'S MINISTRY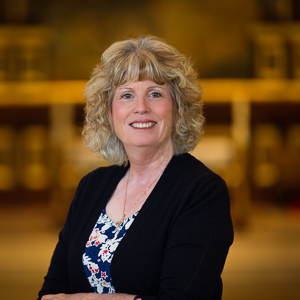 My name is Annette Blais; I am the new Leader of the Women's Ministry in 2019. This is an exciting time; we have been in our new church for a year. I see so many new faces at Mass. We need to "Continue to Grow in Holiness" as Fr. Reynold Furrell said in his letter to the church.
The Women's Ministry is planning some opportunities for you to meet other women socially and spiritually such as;
Women's Luncheon
Social and Service Events
Guest Speakers
Journey – Book Club in the spring and fall
I'm inviting all women to come together to build community as we grow spiritually.
To put on these events, I need your help to plan and put on these events. Are you being called to serve Christ and His Church?   I would like to meet you! please reach out to me through one of ways below.
Website – https://holytrinityladera.org/serve/groups/womens-ministry/
Email – holytrinitywm@gmail.com
Phone – 949-633-5414
LADIES ADVENT CANDLELIGHT REFLECTION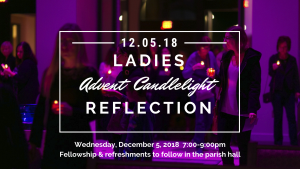 All ladies – and girls – are invited to our Candlelight Reflection Evening. An evening of inspiration to prepare for the Advent season at Holy Trinity Catholic Church – Wednesday, December 5th from 7:00-9:00pm
Please invite a friend — this is a beautiful way to enter into the journey of Advent. Fellowship/refreshments following in the parish hall
OUR MISSION
In the name of the Father, the Son and the Holy Spirit, we ask for your grace and guidance as we serve the spiritual interests of the women of Holy Trinity and grow together in a joyful and compassionate faith community. We welcome all women to join us in our mission to promote fellowship and inspire charity along with the development of our spiritual gifts while we serve our church community through enrichment and outreach. Celebrating our unity in diversity, our ministry will be inclusive and responsive to the changing needs of our growing parish.
MEMBERSHIP
Women who attend Holy Trinity are automatically members of The Women of Holy Trinity. Membership is also extended to women who do not attend the parish but choose to participate in a Women of Holy Trinity ministry or activity. Continued membership does not require a certain level of participation in any meeting, ministry or activity.
CONTACT
Annette Blais
Website – https://holytrinityladera.org/serve/groups/womens-ministry/
Email – holytrinitywm@gmail.com
Phone – 949-633-5414