OUR MISSION
In unity with our Holy Trinity Catholic Parish, our mission is to place God first in all things, to proclaim the gospel of Jesus Christ, and to grow in holiness through prayer, sacraments, and service.
MEMBERSHIP
ALL ARE WELCOME! Come one. Come All! ALL women who attend Holy Trinity are invited to join in. Come as you are and grow together with us. To keep up with our events, announcements & prayer intentions, please share your email to us at holytrinitywm@gmail.com.
CONTACT
Annette Blais
Email – holytrinitywm@gmail.com
---
JOURNEY TOGETHER WEEKLY BOOK STUDY
Journey Together Book Study is a fellowship of women who seek to more deeply explore their relationship with Jesus Christ and other Christian women. By reading the selected book, meeting weekly and sharing personal reflections, our goal is to strengthen, refresh, and enhance our faith journey in a welcoming atmosphere at Holy Trinity Catholic Church. REGISTER BELOW!

You are Enough: What Women of the Bible Teach You About Your Mission and Worth
by Danielle Bean
In a world where everything feels fleeting and temporary, we are made for everlasting life; we are meant to experience God's abiding love. You Are Enough uses the timeless tales of the Bible to clarify that truth for modern women.
See how God's love for each of us shines forth through the stories of the women of the Old Testament
Connect with the hopes, dreams, struggles, and experiences of these remarkable women
Learn how the lives of these women contain valuable lessons for our lives today.
Find hope and encouragement as you discover that you are enough, you are accepted for who you are as a beloved daughter of God.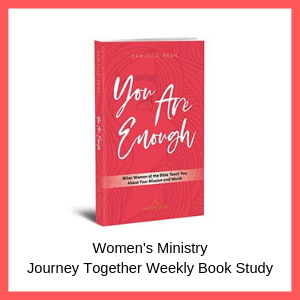 Study Sessions – Wednesdays 1/23 to 5/22
Morning Study: 9:15 to 10:45 AM in Parish Hall
Evening Study: 7:00 to 8:30 PM in Parish Office
You Are Enough Weekly Schedule
Additional Information – Contact the Women's Ministry holytrinitywm@gmail.com