COVID-19 UPDATE
The Women's Ministry are have moved their meetings to Zoom. Please contact Annette Blais for more information – holytrinitywm@gmail.com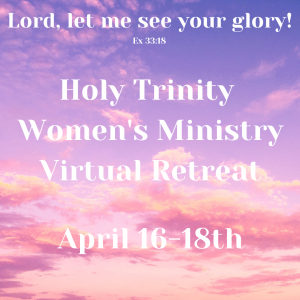 Join the Holy Trinity Women's Ministry  as we seek to draw close to our Risen Lord through this retreat given by the Sacred Heart Sisters. The retreat will begin Friday night with a pre-recorded introduction, followed by live sessions on Saturday and Sunday.
This is a video from one of our annual retreats. Although this year we can't  be in person at the beautiful retreat camp in Big Bear,we will still have a wonderful experience as we gather together virtually.

Join us!!!!
OUR MISSION
In unity with our Holy Trinity Catholic Parish, our mission is to place God first in all things, to proclaim the gospel of Jesus Christ, and to grow in holiness through prayer, sacraments, and service.
MEMBERSHIP
ALL ARE WELCOME! Come one. Come All! ALL women who attend Holy Trinity are invited to join in. Come as you are and grow together with us. To keep up with our events, announcements & prayer intentions, please share your email to us at holytrinitywm@gmail.com.
CONTACT
Annette Blais
Email – holytrinitywm@gmail.com